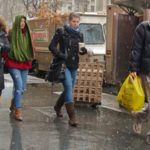 Leather boots are valuable foot ware for every type of occasion, location or professions. Likewise, bring enough comfort and an excellent choice for all season like whether summer, rainy day, winter or heavy snowfall atmosphere. But if you are going to use your leather boots every day in snowfall or winter season then you must have to take some protection for your boots. Because in case of a season like a winter it happens that the leather began to lose its longevity day by day.
As in winter season,leather can easily break out, dry, crake and loses its natural moisture due to lack of humidity in weather. So what can you do to protect your boots? The answer should be by waterproofing your boots. Then one question must arise leather is having a material that is already waterproof. So why need to do this again.
Well, though leather is usually waterproof but without proper care, at winter season it may not work rightly against wet or snowfall. Meantime it is wise to take caution for your leather boots. So that, the boot can do fine performance and save for long time use. Consequently, our brief and active guideline entirely shows you how to waterproof leather boots for winter in an easy and fruitful way. Scroll down to see the process.
How to waterproof leather boots
Initially, it may seem unnecessary to waterproofing your boots. But there are several harsh things in the winter season. Like snow, cold, present of salt in the air that can destroy a good pair of leather boots. To make sure your boots longevity you can undoubtedly follow the given technique.
How to prepare the boots for waterproofing treatment
Firstly, clean your boots with dry towel or piece of cloth or soft brush and rub out mud, dirt or other dry things.
Secondly, wash with fresh water( if need add some cleanser)
Thirdly, remove lace before go for actual waterproof process
Dry out the boots properly by natural air or use artificial if need
Selected any of appropriate or fruitful treatment and go for action
Allow the treatment work in boots overnight then go for use
4 different methods for waterproofing the leather boots
Use of waterproof wax for leather
Waterproofing spray
Use of paste
Classic saddle soap treatment
1. Use of waterproof wax
In order to waterproof leather boots, the use of bee wax is most popular and workable method. Very first, as we mention before clean your boot then warp out the wax which mostly comes in plastic container or tin.
In step one melts the wax bean by using heat like fire, lamp or heat gun. When the bee wax become melted completely then take one toothbrush or any small size brush which suited with boots size.
Dip the brush into melted wax and apply carefully to the full boots until the whole boots cover up. And let it dry out overnight naturally.
Make sure you do not apply the wax in any fabric parts of the boots.
This use of metaled wax treatment will seal the boots and make it waterproof for a long time.
2. Waterproofing spray
Use of spray is actually a new type of treatment and gains much popularity as it takes short effort.
If you have no time and you do not like a long time or overnight process. Then the use of waterproofing spray treatment is the best way for you.
Most type of waterproofing spray comes in can or tin bottle. In order to start the treatment cleans your boots properly. Hold on the spray can or bottle minimum 6 inches from your boots and spray gently. Be careful and make sure you spray entire area of boots except the fabric area.
It is wise to apply few thin coats then one simple coat because it works more than enough.
Dry out fully before use and it will be great if you can wait 24 hours.
We suggested you read the instruction which comes with a spray as different spray have different methods.
One disadvantage of using a spray that it does not soak into leather properly and for doing so takes extra effort.
3. Use of paste
Like above two mention treatment, the use of paste is not much popular and also not works great like them.
Like wax method in this treatment you have to first clean your boots. In the second step take a clean cloth or brush and take a significant amount of paste and rub it on your boots.
Let them dry out and if you feel that the one coat is not enough then apply a second coat. But for this, of course, dry out your boots first.
Actually, this treatment is for those who do not want to pay extra money for waterproofing their boots. Generally speaking, how much it's actually works we are not sure enough.
4. Classic saddle soap treatments
Saddle soap is another popular waterproofing treatment. You might already know the saddle is a kind of gentle soap that usually used to clean and condition horse saddles. In spite of that the soap contains many useful ingredients that work great in case of waterproofing leather boots.
For apply the saddle soap into your boots firstly have your desire soap. Take a piece of cloth; rub it in the soap in order to create a layer. And apply slowly into the boots like our mention other treatment.
Don't use a big amount of soap.
After apply fully again take one clean cloth and erase the extra soap over the boots gently and leave it for dry.
You can repeat the process as much time you want but be sure to use good branded soap.
Final words
Taking care of your feet especially in winter season is not an easy job. For doing so you must need a boot that is not only constructed with leather but at the same time waterproof. To ensure that your boots must have the quality this will keep your feet dry and warm.
Eventually, there are lots of methods and technique available to waterproof the leather boots. But we mention and describe only those great methods that actually work great in this case. Now it up to you which one you choice and which one meets your requirement.