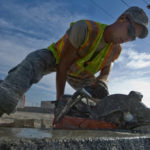 The work boot can be one of the excellent ways to show you cool at your working place. At the same time, it confirms your safety, comfort, and strength in your working area. Hence, you might already look for the best waterproof work boots with a stylish design. But you maybe got confused about which one to buy for what reason. So we are here to show you one of the fine boots for your purpose.
Though, our selected model will go best for those who work in the field of the logging sector. But it does not mean it could not use in other job sectors. The matter is it good for all types of working place but best for logging jobs. So before description, you must be known what actually logging job is.
Well, Logging a job is one of the most adventures and the toughest work in the job world. It is a dangerous, adventure and challenging jobs that involve a critical situation in every second. At this point, you have to make sure your feet are stable and for this, you just need balanced and comfortable waterproof work boots.
In this manner, our selected model is specially designed to provide all kinds of facilities. Take a look below. One of the best logging waterproof work boots from our perception Our preferred work boot is one of the best waterproof work boots no doubt and the reason is oblivious. We took Chippewa steel toe logger boots for review with its all advantage and disadvantage that help you in your way.
Chippewa Men's 9″ Waterproof Insulated Steel-Toe EH Logger Boot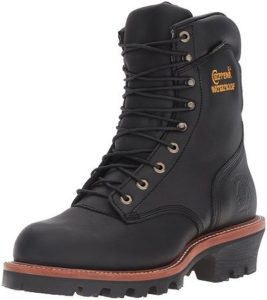 Chippewa men's 9" waterproof work boots regarded as super boots in a market due to the brand's maintenance of excellent quality. Chippewa takes pride as they use premium quality raw material and handcraft technology in their footwear. Very first let's have a look at the key feature.
A key feature at a glance
Proudly made in the USA
Having a steel safety toe cap
Oil-tanned full-grained tough leather upper
Made up of synthetic sole with removal cushion orthotic
Waterproof bootie and ruby Die-Lex 2000 lining
Design
The boot is built in a traditional look with classic larger frame design. It is formatted in such a way that it can be used both for casual and office wear. The rough and tough look of the boots perfectly fit on every occasion. In facts comes in numerous color option that gives the user extra facilities to choose from according to their taste.
Traction
At the point of traction, it left many other work boots behind. The traction of the boots is super that able to keep you firm and stable even in the snow surfaces. Specifically saying, the outsole of the boots is made in slip resistance technology against both oil and water.
Comfort level
If comfort is your concern then again the particular model is just for you. Although the boots have nine inches upper it's so light weighted that you feel you are not wearing heavy boots. Moreover, the thick sole and Goodyear leather welt construction add an extra comfort level. Once more, the removal cushion orthotic allows you to adjust your comfort per your requirement. It gives you full freedom of movement.
Waterproof
Chippewa men's 9" is fully a waterproof work boot. The presence of a Chip-A-Tex membrane made it waterproof and at the same time maintains breathability. In addition, the Texon 460 waterproof insoles help to keep your feet dry and warm even in rainy weather. Plus, Ruby Dry-Lex 2000 works constantly against unwanted sweat that builds up internally.
Steel Toe adds safety
The most noticeable feature of the boots is steel toe construction. The company used steel toe instead of the composite toe that makes it able to stand in heavy impact and compression. Though most of the people thought steel toe made the boots heavy it is not fully true. Rather than make it heavy the feature adds extra protection to the user's feet and keeps them safe. Again the steel toe does not react with electricity that again manages your safety if you step over an electric hazard.
Durability
By it construction details you might already understand how durable the boots are. Well as we mentioned before the boot is made of USA so you defiantly expect super durable quality. Precisely all experts craftsmanship makes the boots durable, popular and worthy to take. There is no way that this product is perfect as there are some obvious. So without further add let's see some pros and cons. Pros
Steel toe box
Lightweight
Premium Goodyear leather welt construction
Water and electric shock resistance
Removal of insole facilities
High quality and excellent durability
Cons
Bit expensive
Issues with lining inside boots
Toe box might not fit with wide feet
Some Frequently Asked Questions (FAQ) about work boots
1. Reader question: Is logging boots are different from general working boots? Answer: Yes logging boots are not the same as your average working boots. The logging boots heel become significantly higher, more durable and added more features than any average work boots. 2. Reader question: How can I maintain and clean my boots? Answer: Well, maintain of boots is easy. You can normally clean up your boots with any soft cleaner and don't need any extra maintenance. 3. Reader question: Is steel toe boots are heavy to wear? Answer: Yes steel toe boots are slightly heavy then general boots but it does not mean it gives your feet heavy feeling. As for our particular model the boots are not much heavy as people thought.
Final words
Working on any job place will be difficult if you have not a proper working boot. And this troublesome becomes double if you are doing logging like a job. In the case of choosing our selected boots is defiantly one of the best waterproof work boots that might meet your expectation. Before going for other boots you can undoubtedly make a try of this one. Although the price is a bit high but keeps in mind the best thing does not come at a cheap price.